The Adventist Giving App is a wonderful solution for your virtual services. The Apps are available in both iOS Appstore and Android's Google Play store. Just search using the keyword "AdventistGiving" to download the App to your phone or tablet.
AdventistGiving is a ministry of the North American Division IT Services Department and provides a way for individuals to return tithe and give offerings from any PC or Mac and any mobile device. Over 2,700 churches (and growing) are enrolled in this service, and approximately 20% of all tithe given in the US and Canada is received through AdventistGiving.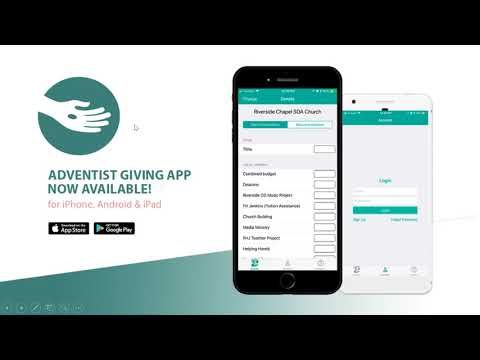 Members Account Donations
Individuals will be able to create/access their accounts in three ways:
 1. Go to the church website and click on the Online Giving link to log in.
 2. Go to https://AdventistGiving.org -- to log in, and then search for a church.
 3. Use one of our mobile Apps to log in.
Guest Donations
Individuals may give without logging into a member account just by clicking on Donate at the login screen. Individuals must enter a first and last name during a Guest transaction if they wish to receive a tax receipt at the end of the year. When no name is entered, the donation is sent to the church as an anonymous donation.
Web Browser
For those using a PC or Mac, it is better to use Mozilla Firefox or Google Chrome web browsers when accessing AdventistGiving.   
Contact/Support
AdventistGiving has a very responsive support desk. We exist to serve you, providing support to treasurers, pastors, and members. Email: Help@AdventistGiving.org -- Our help desk is available to assist treasurers and members.
Tax-deductible Donations Only
Only tax-deductible donations may be received through this service. Adventist Giving only collects charitable donations. NO other payments to be collected by the church can be accepted.
Payment Methods
Individuals may save payment methods in a member account wallet, so this information does not need to be entered each time they wish to donate. Transactions can be made using a checking or savings account or by credit card from Visa, MasterCard, and Discover.
Recurring Donations
Individuals may set up periodic recurring donations in a member account. Donations may be set up as weekly, biweekly, monthly, yearly, etc. 
Tax-Receipts
The local church issues tax receipts.  
Programming and Security
Denominationally employed IT Professionals write AdventistGiving and associated apps of the North American Division IT Services Department or NAD IT Services contractors. AdventistGiving is entirely supported by NAD ITS. 
AdventistGiving maintains the highest levels of security and is monitored regularly. We recognize the sacredness of the tithe dollar (Lev. 27:30), and we employ the strictest standards to protect both the tithe dollar given, as well as the donor. Security is paramount. The AdventistGiving platform has never been compromised, and the donor's data has never been breached.